Individual Retirement Accounts (IRA)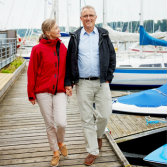 Don't get caught unprepared when it comes to retirement or college expenses. Know you're saving on the right track to retirement or higher education, whichever suits your family's plan. Our Traditional, Roth, and Educational IRAs offer distinct tax-advantages* to help you save.
Plus, we offer a wide range of terms to meet your specific needs. A secure future for your family starts at Synergy Bank. We'd love to talk about your next steps — just contact us or come see us in-person!
Summary

Competitive yields
Fixed rate terms range from 6 months to 5 years
18-month, variable rate IRA available; $100 minimum deposit to open
Flexible interest payment options
Add to CD, interest checks, or transfer to another account
$1,000 minimum deposit to open ($500 for Education IRAs)

*Subject to some minimal conditions. Consult a tax advisor.

Traditional vs Roth

Traditional IRA

No income limit to open
No minimum contribution requirement
Contributions are tax deductible on state and federal income tax*
Earnings are tax deferred until withdrawal
Withdrawals can begin at age 59½
Early withdrawals subject to penalty**
Mandatory withdrawals at age 70½

Roth IRA

Eligibility depends on income limits
Contributions are NOT tax deductible
Earnings are 100% tax free at withdrawal*
Principal contributions can be withdrawn without penalty*
Withdrawals on dividends can begin at age 59½
Early withdrawals on earnings subject to penalty*
No mandatory distribution age
No age limit on making contributions as long as you have earned income

*Subject to some minimal conditions. Consult a tax advisor.




What is a Traditional IRA?

The original IRA (sometimes called an ordinary or regular IRA) is referred to as a "Traditional IRA." The following are two advantages of a Traditional IRA:

You may be able to deduct some or all of your contributions to it, depending on your circumstances.
Generally, amounts in your IRA, including earnings and gains, are not taxed until they are distributed.

You can set up and make contributions to a traditional IRA if:

You (or, if you file a joint return, your spouse) received taxable compensation during the year, and
You were not age 70½ by the end of the year.

You can have a traditional IRA whether or not you are covered by any other retirement plan. However, you may not be able to deduct all of your contributions if you or your spouse is covered by an employer retirement plan.

If both you and your spouse have compensation and are under age 70½, each of you can set up an IRA. You cannot both participate in the same IRA. If you file a joint return, only one of you needs to have compensation.

What is a ROTH IRA?

A Roth IRA is an individual retirement plan that is subject to the rules that apply to a traditional IRA. It can be either an account or an annuity.

To be a Roth IRA, the account or annuity must be designated as a Roth IRA when it is set up. A deemed IRA can be a Roth IRA, but neither a SEP IRA nor a SIMPLE IRA can be designated as a Roth IRA.

Unlike a traditional IRA, you cannot deduct contributions to a Roth IRA. But, if you satisfy the requirements, qualified distributions are tax free. Contributions can be made to your Roth IRA after you reach age 70½ and you can leave amounts in your Roth IRA as long as you live.






Education IRA

Also known as Coverdell Educational Savings Account, this is a special type of tax-deferred savings vehicle used to defray the cost of qualified educational expenses for children. You can contribute up to $2,000 per year until the child reaches 18 years of age.

Save to fund your children's education
No setup or annual fee
Dividends grow tax-free
Withdrawals are tax-free when used for qualified education expenses*
Designated beneficiary must be under 18 when contributions are made
$2,000 maximum annual contribution per child*
Contributions are not tax deductible
Certain income limits apply for contributions*
$500 deposit to open

*Subject to some minimal conditions. Consult a tax advisor.