Health Savings Account (HSA)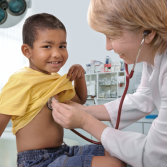 Prepare for the rising costs of health care with a Health Savings Account (HSA) — giving you tax-advantaged savings for qualified medical expenses. Open an HSA in conjunction with a high-deductible health plan so you can feel good about your next trip to the doctor.
The money in your HSA isn't tied to any employer. It's yours to spend when you need it. You can use HSA funds to cover qualified medical expenses for your dependents, too!
Summary

Save for approved medical expenses for you and your family
Funds only available for qualified medical expenses
Earn competitive tax-free interest
Contributions are tax deductible (consult your tax advisor)
No monthly service charge if you maintain a daily balance of $3,000 or more
$3 monthly fee on balances below $3,000
Pay expenses easily by debit card or checks
Free Synergy VISA® debit card
No charge for first 25 checks
$100 minimum deposit to open
One-time setup fee of only $10 (Waived on company group enrollments)
No "use it or lose it" policy; funds automatically roll over year-to-year
Must have a high deductible health plan (HDHP) to be eligible
Contribution limits and parameters set by IRS
Early closure fees may apply*

* All new accounts are subject to a $10 fee if the account is closed within 180 days of opening the account.

Limits

2018 HDHP Limits:

Minimum annual deductible $1,300 (individual) and $2,700(family)
Maximum annual deductible plus out-of-pocket expenses $6,650 (individual) and $13,300 (family)
2018 HSA Contribution Limits: (2018 contributions can be made until April 16, 2019):
$3,450 (individual) $4,450 if age 55 or older*
$6,900 (family) $7,900 if age 55 or older*

*Catch up contributions up to $1,000 allowed if age 55 by the end of the year

2017 HDHP Limits:

Minimum annual deductible $1,300 (individual) and $$2,600 (family)
Maximum annual deductible plus out-of-pocket expenses $6,550 (individual) and $13,100 (family)
2017 HSA Contribution Limits: (2017 contributions can be made until April 17, 2018):
$3,400 (individual) $4,400 if age 55 or older*
$6,750 (family) $7,750 if age 55 or older*

*Catch up contributions up to $1,000 allowed if age 55 by the end of the year