Carefree Checking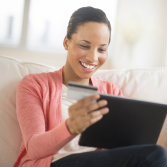 Bank with a breath of fresh air. We call it "Carefree Checking" — a straightforward account that lets you bank without the worry since there's never a monthly or quarterly service charge.
Open your Carefree Checking account with a low $100 deposit. That's it. Plus, your cash is always just a quick click or swipe away — with free online banking, mobile banking, and more!
Summary

No monthly service charge
No minimum balance to maintain**
Free Synergy Visa® debit card available with monthly direct deposit
Synergy Visa® debit card (optional) with no direct deposit - $12 annual fee
Optional membership in the ADDvantage Swell Plan available for $5 a month
$100 minimum deposit to open
Early closure fees may apply*



*All new accounts are subject to a $10 fee if the account is closed within 180 days of opening the account.
** If your checking account is in dormant status and has a balance of less than $500, a dormant fee of $3 per month will be assessed.