Recreational Vehicle Loans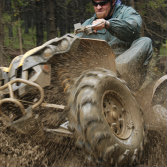 Louisiana is the Sportsman's Paradise, and the Bayou Region is the place where it all happens. Take advantage of our wonderful natural beauty in your own boat, RV, ATV, or motorcycle!
Our loan experts are ready to help you get the right ride to explore our unique surroundings. Whether you love camping, hiking, fishing, hunting — or all of the above — you can rely on an affordable loan from Synergy Bank to get you going!
Please access the loan application by clicking on the "Application" button above. You can complete the form on your computer by typing in the spaces provided or by printing the application and completing the information clearly with blue or black ink. In both cases, please review your application thoroughly, then sign and date the application and bring into any branch. If you are applying with another person, please make certain that they also sign and date the application. For your security, please do not scan and email your application.
Summary

Affordable rates
Flexible terms
Low monthly payments
Buy new or used boats, RVs, ATVs, and more
Easy application process
Local decisions made in the Bayou Region

Prompt responses and personal service