Auto Loans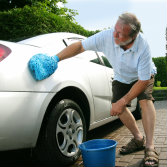 When you're ready to get in the fast lane, Synergy Bank can help get you behind the wheel of a new or used car or truck. Our competitive rates and affordable payment options can be personalized to your needs by our professional, experienced staff.
Don't just settle for a car lot deal, apply with us and see what we can do to make a better car buying experience!
Please access the loan application by clicking on the "Application" button above. You can complete the form on your computer by typing in the spaces provided or by printing the application and completing the information clearly with blue or black ink. In both cases, please review your application thoroughly, then sign and date the application and bring into any branch. If you are applying with another person, please make certain that they also sign and date the application. For your security, please do not scan and email your application.
Summary

Affordably low rates
Flexible terms and low monthly payments
Fast, easy approvals
Pre-approval available for better buying power
Local Bayou region decision-making

Expert personal service you trust