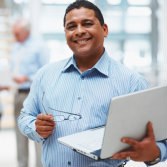 Savings & CDs
Business Money Market
Get more return on your larger balances. We offer two distinct money market accounts to our business customers — our Power account and higher-rate Power Plus account. So you can reward your success with a better rate as your balance grows.
Plus, both our money market accounts offer limited checking privileges — making it easy to answer when opportunity calls. Contact us today and our expert staff will assist you in finding the right money market account for your situation.
Power Account:
Power Plus Account:
Health Savings Account (HSA)
Offer your employees a Health Savings Account (HSA) — easy to open alongside a high deductible health plan. HSAs help your employees save for qualified medical expenses tax-free**. All while keeping quick access to their savings.
But it's not just your employees who will see a healthy change. Boost morale with this in-demand perk as a part of your benefit package, as you build loyalty and retain talent.
Certificates of Deposit
Guarantee returns on a timeline that fits your business plan. How many investments can say that? Our certificates of deposit offer competitive, fixed interest rates on terms ranging from 7 days to 5 years.
We offer higher rates on longer term CDs. It literally pays to plan ahead, go ahead and lock in your rate today.
**Penalties apply for early withdrawal.