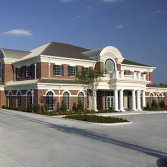 Our Story
Background
Synergy Bank was formed in 1998 by a group of local business leaders who shared a common vision of a new type of financial institution for the Houma-Terrebonne area -- a bank with a true sense of local identity, a bank which would celebrate local values, a bank which would have a profound commitment to the growth and prosperity of our community and its citizens.
Synergy Bank is the realization of their dream -- a solid financial institution and a pillar of integrity, locally owned and managed, and shaped by the values which make our home a wonderful place to live.
At Synergy Bank, you will find a group of people and a corporate philosophy firmly committed to customer service. You will find seasoned banking professionals. You'll find a host of innovative financial products and services tailored to the needs of our customers.
South Louisiana is rich in its diversity, warm in its compassion, grounded in its history and alive with the promise of its future. Synergy is proud to be a part of this vibrant and dynamic community.
A Different Kind of Bank
Get ready for the Synergy brand of banking. It is a little friendlier. A little more convenient. A little more focused on you.
While we offer a full range of financial services, at Synergy we also offer something more -- a unique brand of customer service that you just can't get anywhere else. You will see it in the smiles of our people, in the genuine interest they show in you, in the pride they take in their jobs, in their absolute commitment to our community.
We've designed our service package to be responsive to your needs. If you have questions about any service offered by Synergy, just ask anyone here to provide you additional information. When you call Synergy, you will never be answered by voice mail. You will be greeted by a warm, friendly voice ready to help you. That is simply the Synergy way of doing business.
Synergy -- more than just your bank, we are your friends and neighbors too.
What Sets Synergy Apart
It's simple really... community spirit -- an attitude that's apparent in every Synergy banking professional.
It's the kind of attitude that makes our home a unique and special place. That makes this community rich in hard working, industrious people, who are generous with their time, talent and energy. Such are the people of Synergy.
It is an attitude that embraces good old fashioned customer service, pride in doing a good job, and a sincere belief that in working together, we can make things better for everyone.
Whether it's in helping first-time home buyers in mortgage financing or coaching youth soccer -- whether it's retirement planning for seniors or serving as an advisor to local schools -- the people of our bank embody the meaning of our name. They understand that we're stronger together.
We hope you'll visit our offices to get to know the people of Synergy. It will change the way you think about banking.