Penny's Club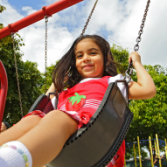 Upgrade your young saver's piggy bank to a smart, age-appropriate alternative. Your child can see first-hand how it pays to save.
Plus, Penny's Club includes access to fun, educational games, Penny's newsletter, and coloring pages. Give your next generation a head start on a solid financial future — starting with just a low $50 minimum deposit to open!
Summary

Earns competitive interest
Free automatic transfers from other accounts available
No service charge with $50 minimum balance
Otherwise $2 charge per quarter on balances below $50
Access to fun and educational games
Three free withdrawals per quarter; $2 charge per withdrawal thereafter*
$50 minimum to open account

* For Savings Accounts, federal regulations limit the number of preauthorized withdrawals to no more than six (6) per monthly statement cycle. Each withdrawal in excess of these limitations is subject to a $10 penalty. Accounts that exceed these transaction limitations on more than an occasional basis will be transferred to another account type.