News & Archive
2015 Articles
Join us for a free snowball in July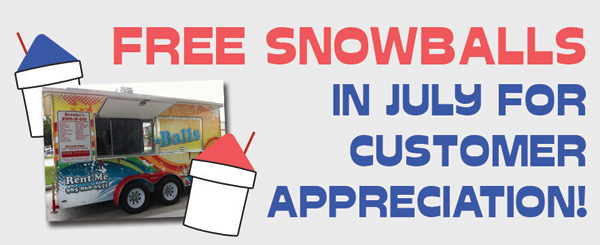 Synergy Bank is declaring July Customer Appreciate Month. As a thank you for being a Synergy Bank customer, we are giving away free snowballs at each of our locations on a designated day and time throughout July. See below for a list of when you can get your tasty treat at the Synergy nearest you (or make a trip to all 5!):
Friday, July 3 from 12:00 – 2:00 p.m.
Thibodaux Office • 209 East Bayou Rd
Friday, July 10 from 2:00 – 4:00 p.m.
Gray Office • 3855 West Park Ave
Friday, July 17 from 2:30 – 4:30 p.m.
Main Office • 210 Synergy Center Blvd
Friday, July 24 from 2:00 – 4:00 p.m.
Tunnel Office • 1036 West Tunnel Blvd
Friday, July 31 from 3:00 – 5:00 p.m.
East Houma Office • 919 Grand Caillou Rd
Pack the Bus School Supply Drive to Benefit Local Children in Need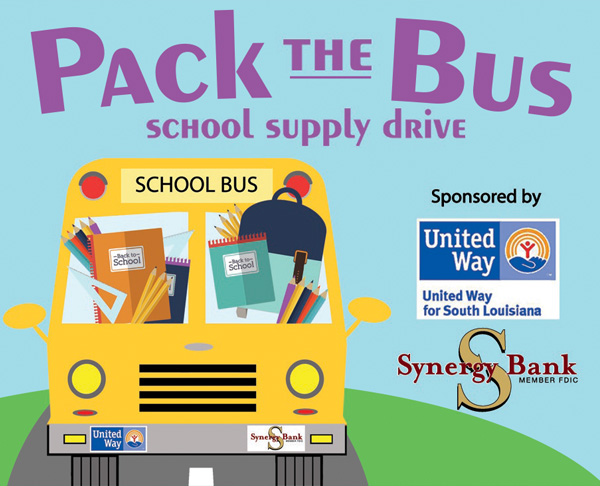 Houma, LA – Synergy Bank and United Way of South Louisiana are coordinating a multi-parish wide school supply drive to benefit children in need. Their goal is to pack a school bus full with school supplies to donate to the dozens of Title One schools throughout Terrebonne and Lafourche.
"There are many children in our communities whose families simply cannot afford the proper school supplies needed," United Way President Alina Merlos said. "By giving a child these supplies, we as a community can help these children not only be prepared but give them the confidence to thrive."
Citizens can help by donating new school supplies to various Pack the Bus collection sites around Terrebonne and Lafourche Parishes.
To date, the businesses that will have the Pack the Bus collection bins are all Synergy Bank locations, all Lafourche Parish libraries, ChickFilA, United Way, Raising Canes, Target, Cannata's Market, Nicholls State University, Sunburst Media, CreativeU, and Hooters. If a business would like to be a collection please contact Alina Merlos at the United Way.
While all school supply donations are appreciated, some of the most needed items are colors, pencils, color pencils, scissors, loose leaf paper, spiral notebooks, binders, glue, glue sticks, rulers, construction paper, pencil bags or pouches, and school bags.
Businesses are also welcome to be a part of the "Bus Tour," where a school bus will travel to their site to collect donations on a designated day. These businesses are encouraged to give out "Bus Passes" to those who donate as an incentive, such as wear jeans to work.
Synergy Bank will also host a Pack the Bus Party at their Main Office, located at 210 Synergy Center Blvd in Houma, on Saturday, August 1 from 11 a.m. – 3 p.m. Those who donate during that time will receive a free snowball courtesy of Synergy Bank and Brooke's SnoWorld.
Synergy Bank Sponsors Field Trip to Bayou Country Children's Museum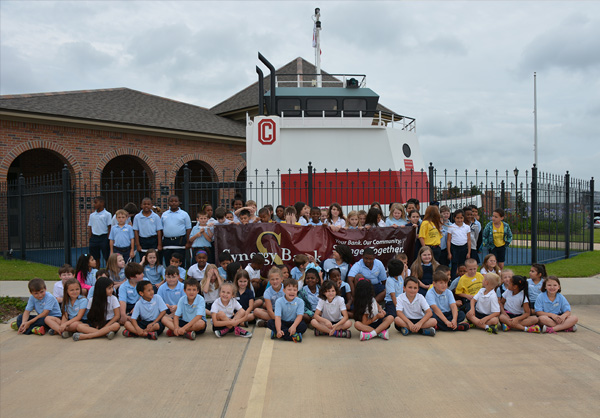 Houma, LA – Synergy Bank was a proud sponsor of Synergy Bank's Day at the Bayou Country Children's Museum in Thibodaux, Louisiana. The event, held on May 14, 2015, gave over hundred first graders of Oakshire Elementary School the opportunity to enjoy the museum free of charge. Oakshire Elementary is one of Synergy Bank's six Partners in Education schools in the Bayou Area.
Students were able to experience all of the museum's exhibits and learn valuable lessons about Louisiana's unique culture, music, industry, food, and more at no cost to their families.
"Synergy Bank is an advocate of financial literacy in both Terrebonne and Lafourche Parishes," said Jerry Ledet, Synergy Bank President and Chief Executive Officer. "Our employees teach lessons on money management and good financial habits monthly to our partner schools. We see this as an extension of our Partners in Education program and being able to offer this great opportunity to the children is part of that mission."
Synergy Bank Named Among "Best of the Best" by the ICBA
Houma, LA – The Independent Community Bankers Association named Synergy Bank as one of the "Best of the Best" top performing banks in the country in their monthly magazine The Independent Banker.
In the category of C Corporation banks ranging in size from $300,000-$500,000 million, Synergy Bank is ranked 21 and 23 in the country in the categories of Return on Assets and Return on Equity, respectively.
Synergy Bank was one of the few selected banks to be featured within the magazine. The magazine article can be found at http://independentbanker.org/2015/04/synergy-bank/.
The article highlights Synergy Bank's focus on cultivating personal connections with customers and continuing to provide new technological advancements.
Local Children Celebrate Lemonade Day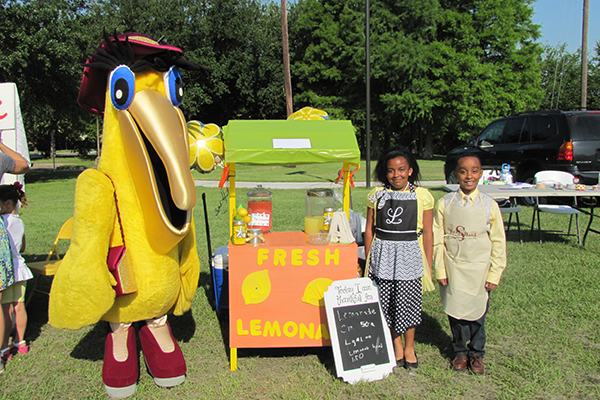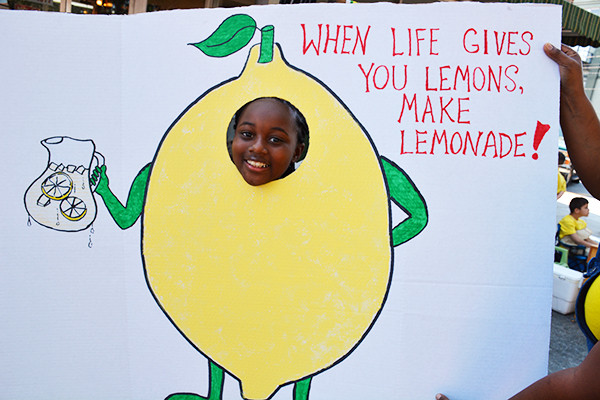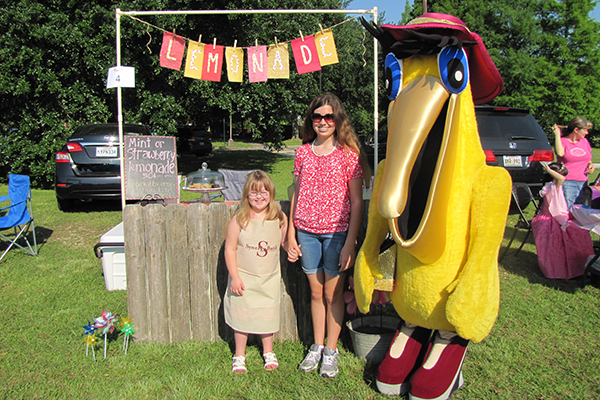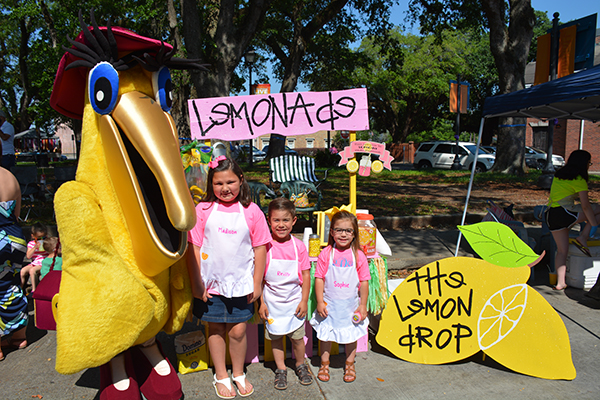 Synergy Bank was proud to sponsor local events for Louisiana Lemonade Day on May 2.
In Houma, more than 35 children participated in Lemonade Day by showcasing their lemonade stands in conjunction with the Houma Downtown Market, while 15 children participated in Thibodaux at The Market.
At each event, the "lemonaders" were able to show their salesmanship, as well as their creativity with their stands. They also competed for the title of "Best Tasting Lemonade" and "Most Creative Stand." Each first place winner received prizes from our sponsors of the events: 1) $50 VISA® Gift Card from Synergy Bank, 2) $50 Rouses Gift Card from Rouses Markets, 3) Gift Basket from Raising Canes, and 4) Library Tote Bags from Terrebonne and Lafourche Parish Libraries.
Lemonade Day Louisiana is a statewide initiative to encourage young entrepreneurs to follow their dreams. The event teaches them important aspect of owning their own business, money management, and financial responsibility – all while having fun with their lemonade stand.
In Houma, the first place winners were:
Best Tasting Lemonade at Lemonade Day Houma – Jordan Matthews / Jordan's Lemtastic Lemonade Stand

Most Creative Lemonade Stand – Prestine Antoine / Prestine's Lemonade Stand
In Thibodaux, the first place winners were:
Best Tasting Lemonade– Jacques and Juliette Holloway / J & J Lemonade Stand

Most Creative Lemonade Stand – Kole and Kyla Danos / Southern Style Lemonade
Special thanks to all our participants!
Lemonade Day to Promote Young Entrepreneurs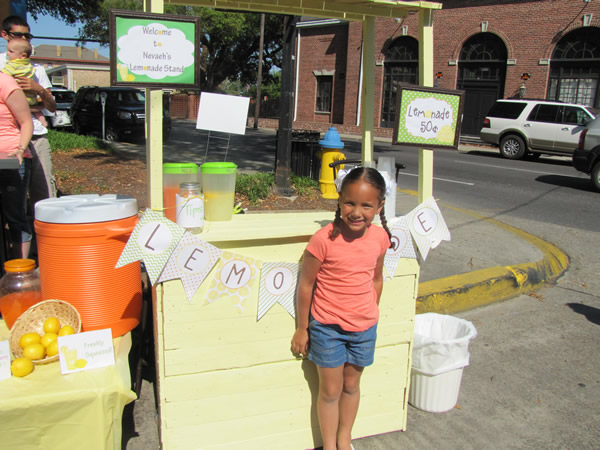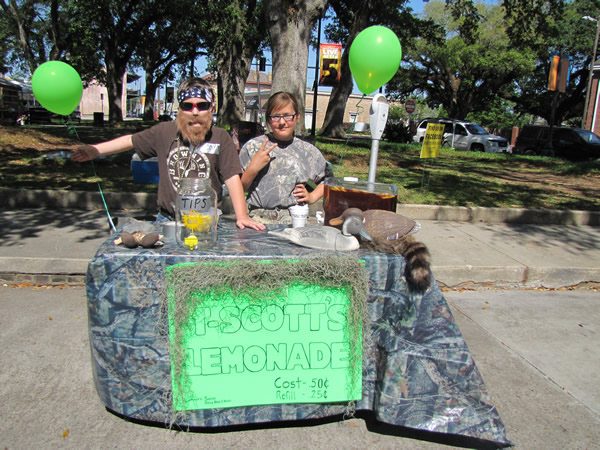 Local sponsors will host Lemonade Day events in Houma and Thibodaux on national Lemonade Day, May 2, 2015.
Lemonade Day is a free, statewide program dedicated to teaching children how to start, own, and operate their own business through the simple and time-honored act of building and running a lemonade stand.
The events will take place at the following locations and times:
Houma Courthouse Square during Downtown Market from 10:00 a.m. – 12:30 p.m.

In Thibodaux, next to Jean Lafitte National Historic Park and Preserve on Saint Mary St. during The Market from 9:00 – 11:30 a.m.
Children are encouraged to bring their lemonade stands to these events to sell their products to the market crowds. Prizes will be awarded to the Best Tasting Lemonade and Most Creative Stand at each event. Parents can register their children online at Louisiana.lemonadeday.org to receive their free backpack featuring detailed support materials. To reserve a spot at the Houma or Thibodaux event, please contact Katie Portier at 985-851-3341 or marketing@banksynergy.com.
These events and Lemonade Day are sponsored locally by Synergy Bank, Rouses Markets, Raising Canes, Terrebonne Parish Library, and Lafourche Parish Library.
The community is encouraged to come to these events and support our local young entrepreneurs.
Serving, giving back to area: Synergy Bank lives up to namesake 15 years running
Formed in 1998 by a group of business leaders who shared a common vision of a new type of financial institution for the Bayou Region, Synergy Bank celebrates local values with a true sense of local identity.
Now 15 years and five locations later, Synergy has continued its commitment to the growth and prosperity of the area's community and citizens.
"South Louisiana is rich in its diversity, warm in its compassion, grounded in its history and alive with the promise of its future. Synergy is proud to be part of this vibrant and dynamic community," said Synergy Bank President and CEO Jerry Ledet.
Providing its customers with innovative financial products and services such as upgraded online banking services including a mobile app where customers can view transitions, pay their bills or pay person-to-person with PopMoney and even deposit a check through a mobile deposit service, Synergy gives its customers what they're looking for in the digital age all the while taking a personal approach to serving personal and business accounts.
"At Synergy Bank, you will find a group of people and a corporate philosophy firmly committed to customer service," Ledet said. "You will find seasoned banking professionals. You'll find a host of innovating financial products and services tailored to the needs of our customers."
But Ledet said just providing customers with great financial products and services aren't enough. On top of listening to customers and getting to know their needs, Synergy prides itself on being a positive part of the community that it serves. After all, that is what its namesake means.
"The word 'Synergy' means two parts working together to produced a combined effect greater than each part would make on its own," Ledet explained. "The two parts in our namesake are us as a bank and the community. It is only together that we can make a difference in our areas. We believe in giving back to the communities we serve."
With more than 100 employees donating "countless" hours at events such as the Semi-Annual Southdown Marketplace Arts and Crafts Festival, the Lady Bug Ball, Kids Day and Bayou Country Children Museum's Night at the Boo-seum, Best of the Bayou Festival, Terrebonne Foundation for Academic Excellence 5K Run, Rougarou Festival and many other events, if there's fun to be had in the Bayou Region, Synergy Bank will probably be there. Synergy is a local sponsor of Lemonade Day, a platform for young entrepreneurs to showcase their lemonade stands and drinks while learning to run a business, and the bank also sponsors several small local events such as 5Ks and high school sports teams.
Using its mascot, Penny D. Pelican, Synergy Bank can connect to children on a fun and laid-back level both in person through appearances at local events and schools as well as in print as a part of three bank publications: a coloring book, an illustrated children's book and the Penny Newsletter, a semi-annual newsletter that focuses on financial literacy, money facts and includes games.
"Penny D. Pelican was born in 2005. She helps us encourage young people to save and teach financial literacy," said the president and CEO. "Each month, we go to five different elementary schools to teach children lessons on money and the importance of saving. We bring Penny at the beginning of each year to get the students excited about what they are going to learn throughout the year and the kids love her. We also bring Penny to the local events geared towards children, such as Night at the Boo-seum, Kids Day and the Ladybug Ball, so other children have the opportunity to meet her as well."
For residents at the other end of the age spectrum, Synergy Bank's 50+ Club invites customers 50 years of age and older to participate in events such as trips to the Saenger Theatre, plantations and museums as well as local events like crawfish boils and the Ring in the Holidays event.
In 2014, Synergy donated $25,000 to the Terrebonne Parish Consolidated Government Department of Housing and Human Services program to provide wheelchair ramps and grab bars to several low-income residents, and with the Federal Home Loan Bank of Dallas Partnership Grant program, it donated $17,000 to Home Extreme, a non-profit in Houma dedicated to helping at-risk youth break the cycle of poverty, violence and crime.
"Our motto is 'Your Bank. Our Community. Stronger Together' and we truly believe that together we can help each other grow and prosper," Ledet said.
by Richard Fischer
Source: Houma Times
2014 Articles
Let It Snow, Let It Snow, Let It Snow!
Synergy Bank will host its annual Winter Wonderland event on Friday, December 5th in conjunction with the Houma Christmas Parade.
At Synergy Bank's Winter Wonderland, children can play in 30 tons of real snow from 5:30 - 9:00 p.m. on the corner of Goode and Belanger Streets near the Courthouse Square. They can also enjoy magical falling snow after Santa Claus lights the Christmas tree following the Christmas Parade.
All of Synergy Bank's activities are free and open to the public.
The TPCG's Christmas Parade starts at Terrebonne High School, continues down Main Street to Barrow Street and ends at School Street. The event will include parade floats, caroling, tree lighting, and a visit from Santa Claus.
Synergy Bank Partners with TPCG to Help Disabled Residents
Several low-income residents with disabilities in Terrebonne Parish now have handicapped accessible accommodations to their home through a generous donation from Synergy Bank to the Terrebonne Parish Consolidated Government's (TPCG) Handicap Accessibility Grant Program.
Synergy Bank donated $25,000 to the TPCG Department of Housing and Human Services program this year. With the donation, TPCG was able to provide wheelchair ramps and grab bars to several low-income residents in the parish giving them greater accessibility and mobility. Every year the Department of Housing and Human Services receives numerous requests for assistance through the Handicap Accessibility Grant Program. Handicap ramps can range from $2,500 to $4,000 per installation. Each applicant must meet certain criteria set forth by both the U.S. Department of Housing and Urban Development and the Handicap Accessibility Grant.
"Synergy Bank is proud to partner with Terrebonne Parish Consolidated Government on the Handicap Accessibility Program," said Jerry Ledet, Synergy Bank President and Chief Executive Officer. "We understand the challenges that low-income homeowners face and to purchase a handicap accessible ramp is out of the question for many residents. Being able to assist those in need in our community is an honor and privilege."
"This funding allows us to address the needs of our most vulnerable populations, the elderly and disabled. We are thankful to Synergy Bank for their generous donation to assist this group of low-income homeowners in our community," said Darrel Waire, Director of the Terrebonne Parish Department of Housing and Human Services.
New Account to Account Transfer
Synergy's Online banking customers can now easily move money from their Synergy Bank Accounts to their accounts at other financial institutions through Synergy's Bill Pay Account to Account Transfer. There is no cost for the transaction if the transfer is completed through Synergy's Bill Pay.
To set up your Account To Account Transfers, please follow these easy steps:
1. Sign into Online Banking. Select the appropriate checking account from the "My Account(s)" tab, then click the "Bill Pay" tab. Once in Bill Pay, click the "Transfer Money" tab at the top of the page.
2. Click "Add an Account" and enter the routing and account numbers of your external accounts. For security, you will have to verify that you are the account owner of those accounts in three easy steps:
Wait two business days. Synergy Bank will make two test deposits and one test withdrawal into the account you are adding.

Find two test deposits. You will need to look at the transactions of the account you are adding to identify the test deposits.

Enter the deposits in Online Bill Pay. You will be asked to enter the two deposit amounts in order to verify you own the account.
3. Once completed, you can make one-time transfers or set up recurring transfers.
Win Tickets to Synergy Bank presents Summer Fun Kids Day
Synergy Bank is giving away free admission and fast passes to the 15th Annual Synergy Bank presents Summer Fun Kids Day on Saturday, July 19 from 10 a.m. to 4 -p.m.
Register to win at any Synergy Bank or on our Facebook page at www.facebook.com/SynergyBank. Click on the "Kids Day Giveaway" tab under our cover photo to enter to win. To access the giveaway on your mobile phone, click here: https://a.pgtb.me/ZdL1X8.
The event will feature games and activities for all ages, including U:Bot and 4D Movie Ride. Kids can also explore through fun and interactive exhibits in the Discovery Den, including meeting Super WHY!, a character from the animated series seen on PBS Kids and Sprout!
Kids Day also features face painting, a petting zoo, arts and crafts, the Audubon Nature Institute Wetland Express, and much more. The Synergy Bank Stage will host live entertainment throughout the day, including Sing-A-Longs, Beauty and the Beast, Jr., and a Gurrila Jui-Jistsu: Bully Proof showcase.
Stop by the Synergy Bank booth for free pictures with Penny D. Pelican and a turn in the Money Machine to catch Penny bucks to redeem for prizes.
For a full list of attractions, entertainment, and ticket information, please visit houmaciviccenter.com/summerfunkidsday.
Synergy Bank Recognized as Top Performer
ICBA Independent Banker®, the award-winning magazine of the Independent Community Bankers of America (ICBA), recognized Synergy Bank in its June 2014 issue as an ICBA Top Performer. The rankings are based on FDIC 2013 year-end data on operational efficiencies.
Synergy Bank ranked 22nd in return on average assets and 14th in return on average equity in the category Subchapter C Community Banks with $300-500 million in assets.
"As the only Louisiana community bank in our category, we are proud of the accolades that this recognition brings not only to Synergy Bank but to the Bayou Region." said Jerry Ledet, Jr., Synergy Bank President and Chief Executive Officer. "We credit our loyal customers and dedicated employees for this success and look forward to continuing to proudly serve our great community."
ICBA Independent Banker® annually ranks community banks to identify the community banks with performance metrics based on best return on average asset ratios and average equity ratios in six asset-size categories. The rankings separately recognize top-performing Subchapter C corporation banks and Subchapter S corporation banks. For more information, visit www.ibmag.org.
Get a Free Snowball for Customer Appreciation Month
What is better than a snowball on a hot summer day? As a thank you for being a Synergy Bank customer, we are giving away free snowballs at each of our locations on a designated day and time in June. See below for when you can get your tasty treat at the Synergy Bank nearest to you:
Friday, June 13 from 3 – 5 p.m.
East Houma Office • 919 Grand Caillou Road
Monday, June 16 from 1-3 p.m
Gray Office • 3855 West Park Avenue
Friday, June 20 from 2 – 4 p.m.
Tunnel Office • 1036 West Tunnel Boulevard
Friday, June 27 from 3 – 5 p.m.
Main Office • 210 Synergy Center Boulevard
Monday, June 30 from 12 – 2 p.m.
Thibodaux Office • 209 East Bayou Road
Come stop by for your snowball! As always, thank you for banking with Synergy Bank.
Young Entrepreneurs Participate in Lemonade Day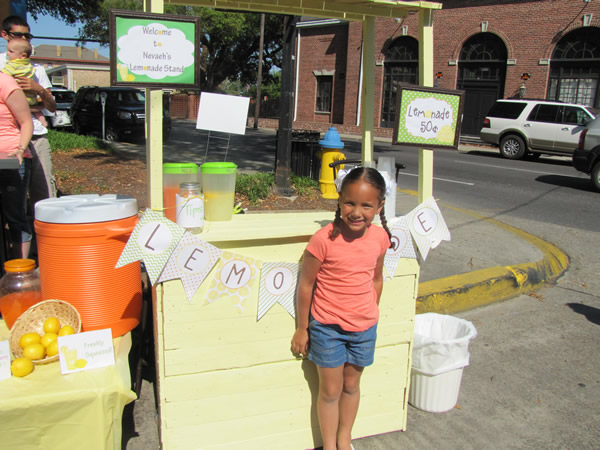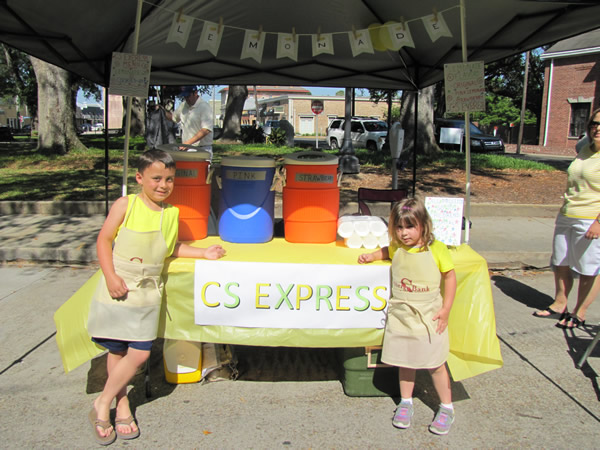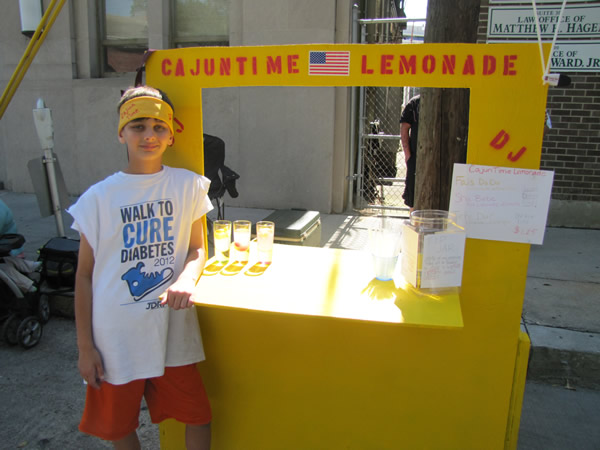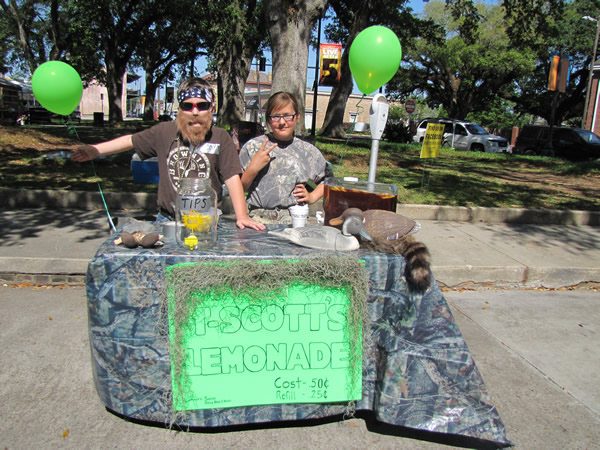 Young entrepreneurs of all ages shared their delicious homemade lemonade to a large crowd gathered for Lemonade Day on May 3 at the Houma Downtown Market. Lemonade Day is a state-wide initiative to support and encourage young entrepreneurs to learn how to run, operate, and own their own business – a lemonade stand.
The event was sponsored by Synergy Bank, Raising Cane's, Rouses, and the Terrebonne Parish Library. All 16 lemonade stands were operated by children ages 4 – 13, and featured a variety of flavors and treats.
"All of these young entrepreneurs put forth great effort and creativity into both their products and their stands," Jerry Ledet, Synergy Bank President & CEO, said. "They were all very excited to have their own lemonade stand and be able to sell to the community. Many of them were donating their profits to charities."
Prizes were given for 1st and 2nd place for Best Tasting Lemonade and Most Creative Lemonade Stand. First place for Best Tasting Lemonade went to Demore Gardner of "Twisted Sisters" for her crawfish-infused lemonade, while Callie Ezell of "Callie's Lemonade Stand" won second place. Most Creative Lemonade Stand went to Scott Christoffersen and Kim Tyler of "T-Scott's Lemonade Stand" for his Duck Dynasty-inspired décor and costume, while Sophie and Nikolas Naquin of "Sophie & Nik's Luau" earned second place for their colorful luau-themed stand.
Bill Pay System Upgrade
On May 15, 2014, Synergy Bank will be upgrading our Online Bill Pay System. Please be aware that the Bill Pay functionality of our Online Banking System will be unavailable on Thursday, May 15th. All bill payments scheduled for May 15th will process as normal. We encourage you to conduct any bill payments by the end of the day May 14th to avoid the disruption in your service. During the upgrade, your payees will transfer over to the new system; however, all External Transfer (Bank to Bank) account information will need to be reentered.
The new enhanced Bill Pay System will be available on May 16th and provide additional functionalities such as:
Faster processing of electronic payments

Bill payment date selection

The ability to pay bills through the Synergy Bank Mobile App
One of the most exciting new features of the upgrade is PopMoney. PopMoney allows you to send and/or request money similar to the "Pay An Individual" feature in our previous Bill Pay Product but with PopMoney you will be able to send your payment via text message or an email address.
Synergy Bank is committed to providing you with the convenience of online banking technology with the personal service you have come to expect. We thank you for banking with Synergy Bank and if you have any questions about your account or the upgrade, please email us at ebanking@banksynergy.com or call us at 985-851-2217.
Heartbleed Vulnerability
On April 7, 2014, the U.S. Computer Emergency Response Team (CERT) notified the public of a serious vulnerability (Heartbleed) within the widely used encryption software known as OpenSSL. OpenSSL is commonly used within vendor products to encrypt communications between Web browsers and websites, as well as communications sent via email and instant messaging services.
We have conducted an assessment of our information systems, including our website, www.banksynergy.com, and online banking systems. We have concluded that none of our internet-accessible services are susceptible to the Heartbleed vulnerability. Security of our information systems and the information of our customers remains a top priority.
If you use your Synergy Bank password for other web services like social media or email, we do recommend that you take the time to change your passwords across all the sites that you access online, because we can't verify the security of other sites that you may use. We encourage you to maintain general security best practices, including regularly updating your passwords, using different passwords for each system you access, and always keeping your passwords confidential.
For specific information and websites that may be affected please visit: http://heartbleed.com/ and https://www.us-cert.gov/ncas/alerts/TA14-098A
Synergy Bank Receives Corporate Mark of Honor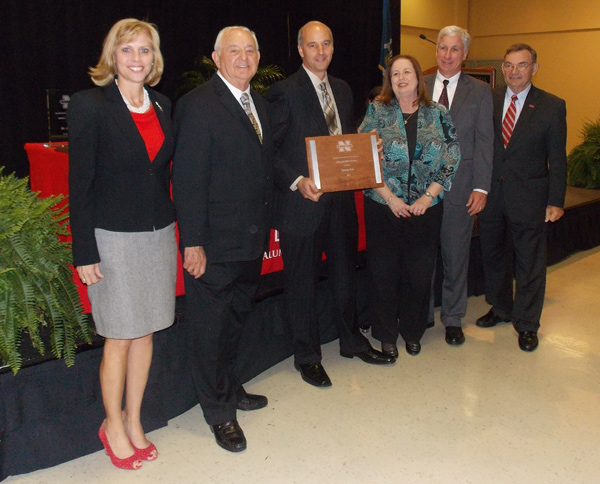 Synergy Bank was recently awarded the Corporate Mark of Honor from the Nicholls State University (Nicholls) Alumni Federation at its Awards for Excellence ceremony on March 28, 2014. Each year, the Nicholls Alumni Federation recognizes alumni, students, faculty and businesses who have contributed to the university and their community.
"It is our pleasure to have the opportunity to recognize the members of our community who have done so much for Nicholls and the surrounding areas," said Monique Crochet, Alumni Federation Director. "Synergy truly appreciates the value of Nicholls and its educational mission that we strive to enhance every day."
"Synergy Bank recognizes the important role Nicholls State University plays in our community and our region," said Jerry said Jerry Ledet, Synergy Bank President and CEO. "We are proud to support the University and are honored to be the 2014 Nicholls Alumni Foundation Corporate Mark of Honor recipient."
Synergy Bank and Sponsors set to kick-off Lemonade Day in the Bayou Region
Today, organizers, sponsors and partners of Lemonade Day Louisiana announced plans to further expand the annual event to the Bayou Region on Saturday, May 3, 2014.
"We are excited that our community is participating in Lemonade Day and developing the next generation of business and community leaders. Lemonade Day provides a great opportunity for our young people to actively learn about business, leadership, and team work, said Terrebonne Parish President Michel Claudet.
Lemonade Day Louisiana is a free, statewide educational initiative designed to teach children how to start, own and operate their own lemonade business. It is a fun, entrepreneurial and experiential learning program for all children, ages 4–18.
More than 17,000 youth across Louisiana are expected to participate in the program.
"Synergy Bank is proud to support Lemonade Day," added Jerry Ledet, Synergy Bank President. "We recognize that through financial education and the promotion of the spirit of entrepreneurship to our youth we are contributing to the economic growth and well-being of the Bayou Region."
Young entrepreneurs are provided with a free backpack which contains detailed support materials including an Entrepreneur Workbook, Marketing Tips and Caring Adult Guide to help them establish their lemonade stand. These "lemonaders" are advised to spend a little, save a little and share a little, donating a portion of their proceeds to a local charity of their choice. After covering their expenses and paying back their investors, children are encouraged to open a youth savings account.
"We were once a food start up ourselves," said Donny Rouse of his family's company, Rouses Markets. "Lemonade Day gives our next generation of food entrepreneurs a head start."
Registered "lemonaders" can set up their lemonade stands in the Courthouse Square at the Houma Downtown Market from 11:00 am to 2:00 pm on Saturday, May 3rd. Those participants will have a chance to win prizes from local sponsors including Raising Cane's, Rouses Supermarkets, and Synergy Bank. Awards will be given for the most creative stand and for the best tasting lemonade.
Students can register for Lemonade Day online at www.louisiana.lemonadeday.org. Onsite registration is available at the Terrebonne Parish Library, the Lady Bug Ball on April 5th at Southdown Plantation, and at Synergy Bank on Synergy Center Boulevard.
Once registered, kids can pick up their free backpacks at Raising Cane's, Rouses Supermarkets, Terrebonne Parish Main Library and Synergy Bank on Synergy Center Boulevard in Houma.
Students who wish to set up a lemonade stand at the Downtown Market on May 3rd, should contact Katie Portier, marketing@banksynergy.com or call 985-851-3341, to sign up.
Lemonade Day Louisiana was founded in 2010, by entrepreneurs John Georges and Todd Graves and has grown tremendously over the last few years. More than 50,000 kids have participated in the program since 2010. Louisiana is one of more than 40 regions in the U.S. and Canada to participate in Lemonade Day.
For information about sponsorships, partnerships or donations, please contact Lemonade Day Statewide Director Dana Hansel at lemonadedayinfo@yahoo.com.
Synergy Bank Celebrates 15 Years Strong
Synergy Bank proudly celebrated its 15 year anniversary March 10, 2014.
Formed in 1998, Synergy Bank was created from a vision to be a new type of financial institution – a bank true to our local values and our commitment to help foster the growth and prosperity of our community and citizens. Fifteen years later, we are still true to our mission and work hard to bring our customers the service they expect from their local bank.
We thank our loyal customers who have given us the opportunity to serve them over the years, as well as our dedicated employees for their years of service to our customers and community.
Synergy 50+ Club Welcomes Mardi Gras with Second Line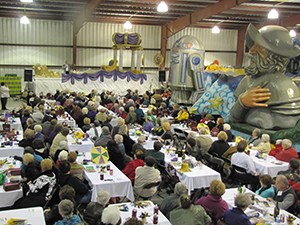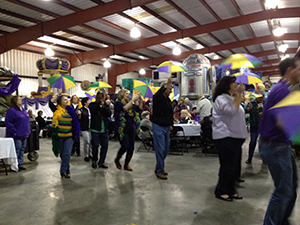 The Synergy 50+ Club kicked off the 2014 Mardi Gras season with their first event of the year. Surrounded by the beautiful floats of the Krewe of Houmas, guests dined on delicious jambalaya, fried catfish, and white beans. After eating a delicious meal followed by sampling a variety of King Cake flavors and fillings from four local bakeries, guests took their seats for the night's entertainment.
The Big Fun Brass Band of New Orleans got their toes tapping with the sounds of their 9-piece horn players. Next, Arthur Hardy took the stage to share his interesting stories and experiences as the "World's Foremost Authority on Mardi Gras." In his humorous presentation, he gave us a behind-the-scenes look at his coverage of Mardi Gras including his interactions with many celebrities.
Because no Mardi Gras party is complete without one, the Big Fun Brass Band led our guests in a joyous second line filled with Mardi Gras beads and umbrellas.
The Synergy 50+ Club is open to all Synergy Bank customers who are 50 years of age and older. Invitations are sent to all of these customers so there is no need to enroll. We hope to see you at our next event.
Synergy Bank Brings a Winter Wonderland to Town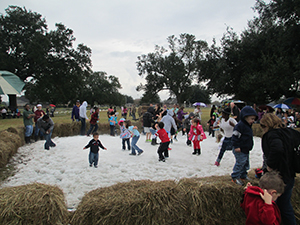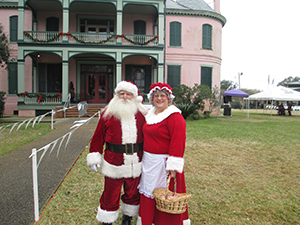 Synergy Bank hosted its second annual Winter Wonderland held at Southdown Plantation and Museum on Saturday, December 14. Children of all ages loved ice skating, sliding down the 90-foot toboggan slide and playing in 10 tons of real snow. They also enjoyed taking a horse-drawn carriage ride and Christmas train ride, participating in giant snowball races, and learning about animals at the Audubon ZOOmobile.
Kids were delighted to meet Santa Claus, Mrs. Claus, Rudolph the Red-Nosed Reindeer, and many elves. The event also had balloon animals, face painting, a Christmas photo booth, Christmas crafts, and a gingerbread bounce house.
"We wanted to provide the community with a free winter festival that they could enjoy with their families," Jerry Ledet, Synergy Bank President & CEO, said. "We put together an event that we thought not only our community would enjoy, but would also be proud of."
The event was free to the public. Food and drinks were provided by Southdown Plantation, where profits went to the Terrebonne Historical and Cultural Society to help preserve the history of Terrebonne Parish.