News & Archive
Synergy Bank Receives Corporate Mark of Honor
Synergy Bank was recently awarded the Corporate Mark of Honor from the Nicholls State University (Nicholls) Alumni Federation at its Awards for Excellence ceremony on March 28, 2014. Each year, the Nicholls Alumni Federation recognizes alumni, students, faculty and businesses who have contributed to the university and their community.
"It is our pleasure to have the opportunity to recognize the members of our community who have done so much for Nicholls and the surrounding areas," said Monique Crochet, Alumni Federation Director. "Synergy truly appreciates the value of Nicholls and its educational mission that we strive to enhance every day."
"Synergy Bank recognizes the important role Nicholls State University plays in our community and our region," said Jerry said Jerry Ledet, Synergy Bank President and CEO. "We are proud to support the University and are honored to be the 2014 Nicholls Alumni Foundation Corporate Mark of Honor recipient."
Synergy Bank and Sponsors set to kick-off Lemonade Day in the Bayou Region
Today, organizers, sponsors and partners of Lemonade Day Louisiana announced plans to further expand the annual event to the Bayou Region on Saturday, May 3, 2014.
"We are excited that our community is participating in Lemonade Day and developing the next generation of business and community leaders. Lemonade Day provides a great opportunity for our young people to actively learn about business, leadership, and team work, said Terrebonne Parish President Michel Claudet.
Lemonade Day Louisiana is a free, statewide educational initiative designed to teach children how to start, own and operate their own lemonade business. It is a fun, entrepreneurial and experiential learning program for all children, ages 4 – 18.
More than 17,000 youth across Louisiana are expected to participate in the program.
"Synergy Bank is proud to support Lemonade Day," added Jerry Ledet, Synergy Bank President. "We recognize that through financial education and the promotion of the spirit of entrepreneurship to our youth we are contributing to the economic growth and well-being of the Bayou Region."
Young entrepreneurs are provided with a free backpack which contains detailed support materials including an Entrepreneur Workbook, Marketing Tips and Caring Adult Guide to help them establish their lemonade stand. These "lemonaders" are advised to spend a little, save a little and share a little, donating a portion of their proceeds to a local charity of their choice. After covering their expenses and paying back their investors, children are encouraged to open a youth savings account.
"We were once a food start up ourselves," said Donny Rouse of his family's company, Rouses Markets. "Lemonade Day gives our next generation of food entrepreneurs a head start."
Registered "lemonaders" can set up their lemonade stands in the Courthouse Square at the Houma Downtown Market from 11:00 am to 2:00 pm on Saturday, May 3rd. Those participants will have a chance to win prizes from local sponsors including Raising Cane's, Rouses Supermarkets, and Synergy Bank. Awards will be given for the most creative stand and for the best tasting lemonade.
Students can register for Lemonade Day online at www.louisiana.lemonadeday.org. Onsite registration is available at the Terrebonne Parish Library, the Lady Bug Ball on April 5th at Southdown Plantation, and at Synergy Bank on Synergy Center Boulevard.
Once registered, kids can pick up their free backpacks at Raising Cane's, Rouses Supermarkets, Terrebonne Parish Main Library and Synergy Bank on Synergy Center Boulevard in Houma.
Students who wish to set up a lemonade stand at the Downtown Market on May 3rd, should contact Katie Portier, marketing@banksynergy.com or call 985-851-3341, to sign up.
Lemonade Day Louisiana was founded in 2010, by entrepreneurs John Georges and Todd Graves and has grown tremendously over the last few years. More than 50,000 kids have participated in the program since 2010. Louisiana is one of more than 40 regions in the U.S. and Canada to participate in Lemonade Day.
For information about sponsorships, partnerships or donations, please contact Lemonade Day Statewide Director Dana Hansel at lemonadedayinfo@yahoo.com.
Synergy Bank Celebrates 15 Years Strong
Synergy Bank proudly celebrated its 15 year anniversary March 10, 2014.
Formed in 1998, Synergy Bank was created from a vision to be a new type of financial institution – a bank true to our local values and our commitment to help foster the growth and prosperity of our community and citizens. Fifteen years later, we are still true to our mission and work hard to bring our customers the service they expect from their local bank.
We thank our loyal customers who have given us the opportunity to serve them over the years, as well as our dedicated employees for their years of service to our customers and community
Synergy 50+ Club Welcomes Mardi Gras with Second Line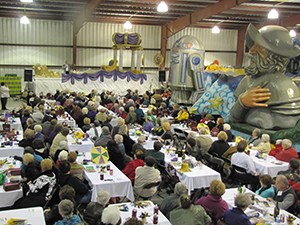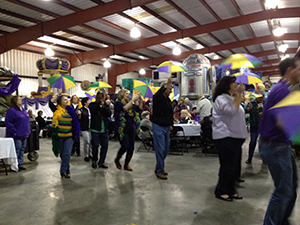 The Synergy 50+ Club kicked off the 2014 Mardi Gras season with their first event of the year. Surrounded by the beautiful floats of the Krewe of Houmas, guests dined on delicious jambalaya, fried catfish, and white beans. After eating a delicious meal followed by sampling a variety of King Cake flavors and fillings from four local bakeries, guests took their seats for the night's entertainment.
The Big Fun Brass Band of New Orleans got their toes tapping with the sounds of their 9-piece horn players. Next, Arthur Hardy took the stage to share his interesting stories and experiences as the "World's Foremost Authority on Mardi Gras." In his humorous presentation, he gave us a behind-the-scenes look at his coverage of Mardi Gras including his interactions with many celebrities.
Because no Mardi Gras party is complete without one, the Big Fun Brass Band led our guests in a joyous second line filled with Mardi Gras beads and umbrellas.
The Synergy 50+ Club is open to all Synergy Bank customers who are 50 years of age and older. Invitations are sent to all of these customers so there is no need to enroll. We hope to see you at our next event.
Synergy Bank Brings a Winter Wonderland to Town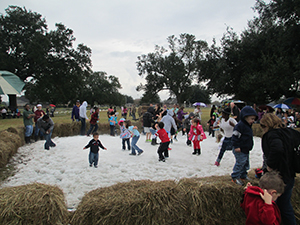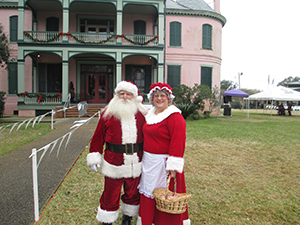 Synergy Bank hosted its second annual Winter Wonderland held at Southdown Plantation and Museum on Saturday, December 14. Children of all ages loved ice skating, sliding down the 90-foot toboggan slide and playing in 10 tons of real snow. They also enjoyed taking a horse-drawn carriage ride and Christmas train ride, participating in giant snowball races, and learning about animals at the Audubon ZOOmobile.
Kids were delighted to meet Santa Claus, Mrs. Claus, Rudolph the Red-Nosed Reindeer, and many elves. The event also had balloon animals, face painting, a Christmas photo booth, Christmas crafts, and a gingerbread bounce house.
"We wanted to provide the community with a free winter festival that they could enjoy with their families," Jerry Ledet, Synergy Bank President & CEO, said. "We put together an event that we thought not only our community would enjoy, but would also be proud of."
The event was free to the public. Food and drinks were provided by Southdown Plantation, where profits went to the Terrebonne Historical and Cultural Society to help preserve the history of Terrebonne Parish.