News & Archive
Synergy 50+ Club Welcomes Mardi Gras with Second Line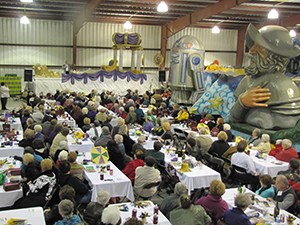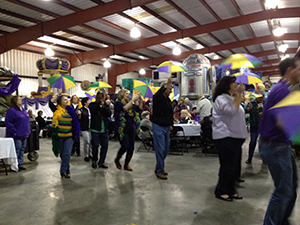 The Synergy 50+ Club kicked off the 2014 Mardi Gras season with their first event of the year. Surrounded by the beautiful floats of the Krewe of Houmas, guests dined on delicious jambalaya, fried catfish, and white beans. After eating a delicious meal followed by sampling a variety of King Cake flavors and fillings from four local bakeries, guests took their seats for the night's entertainment.
The Big Fun Brass Band of New Orleans got their toes tapping with the sounds of their 9-piece horn players. Next, Arthur Hardy took the stage to share his interesting stories and experiences as the "World's Foremost Authority on Mardi Gras." In his humorous presentation, he gave us a behind-the-scenes look at his coverage of Mardi Gras including his interactions with many celebrities.
Because no Mardi Gras party is complete without one, the Big Fun Brass Band led our guests in a joyous second line filled with Mardi Gras beads and umbrellas.
The Synergy 50+ Club is open to all Synergy Bank customers who are 50 years of age and older. Invitations are sent to all of these customers so there is no need to enroll. We hope to see you at our next event.
Synergy Bank Brings a Winter Wonderland to Town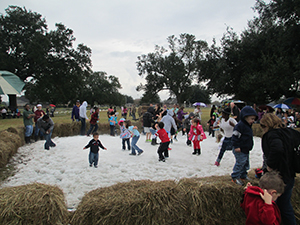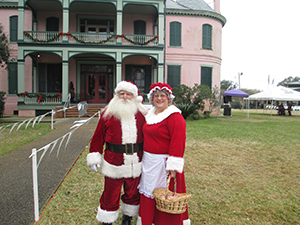 Synergy Bank hosted its second annual Winter Wonderland held at Southdown Plantation and Museum on Saturday, December 14. Children of all ages loved ice skating, sliding down the 90-foot toboggan slide and playing in 10 tons of real snow. They also enjoyed taking a horse-drawn carriage ride and Christmas train ride, participating in giant snowball races, and learning about animals at the Audubon ZOOmobile.
Kids were delighted to meet Santa Claus, Mrs. Claus, Rudolph the Red-Nosed Reindeer, and many elves. The event also had balloon animals, face painting, a Christmas photo booth, Christmas crafts, and a gingerbread bounce house.
"We wanted to provide the community with a free winter festival that they could enjoy with their families," Jerry Ledet, Synergy Bank President & CEO, said. "We put together an event that we thought not only our community would enjoy, but would also be proud of."
The event was free to the public. Food and drinks were provided by Southdown Plantation, where profits went to the Terrebonne Historical and Cultural Society to help preserve the history of Terrebonne Parish.